Like the fascinating culture that comes to life between its pages, UZBEKISTAN: an experience of cultural treasures to colour will take you on a journey of discovery from the blue and gold splendours of Samarkand to the intricacy of sacred mosaics. It's the perfect way for you and your children to explore Uzbekistan's rich cultural heritage, taking us along the Silk Road from fifth century architecture to modern-day artists.
As we turn the pages, exquisite full-colour photographs transport us to some of the world's most magnificent architectural monuments. From palaces through mosques, madrasahs and mausoleums, we wend our way amongst masterpieces of architecture, marvelling at the captivating mosaics with their complex geometric patterns or motifs inspired by the world of plants and mythological beasts. Fascinating and vibrant, they testify to the skill and craftsmanship of historic Uzbek masters.
Here, in the heart of Central Asia, mesmerizing patterns and vivid palettes evolved over the centuries to become a distinctive theme present in all arts and crafts from silk weaving to ceramics.
As a tribute to this rich heritage, UZBEKISTAN: an experience of cultural treasures to colour is a celebration of the arts and pictorial traditions of this fascinating land. Photographs of architectural monuments, murals, ceramics, tapestries and ornamented textiles highlight the country's cultural treasures. Short accompanying texts explain their historical significance. On the right-hand page, the reader is given the opportunity to colour in drawings based on the beautiful photographs provided.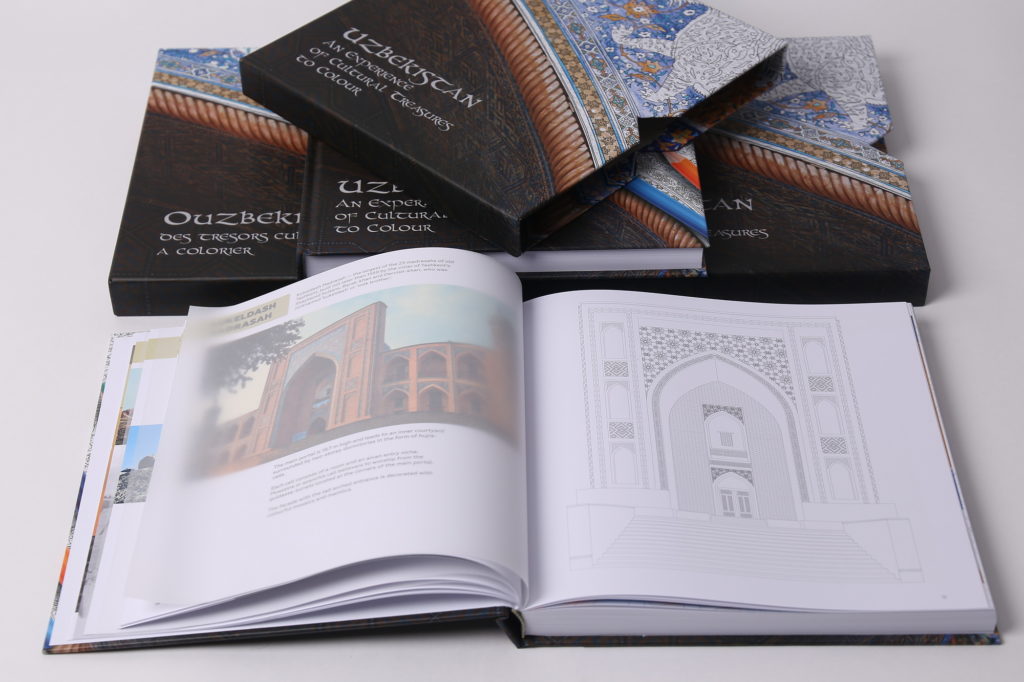 The Uzbek masters' keen appreciation of colour combined with an awareness of spatial perspective, geometric form and the flowing lines of natural motifs can now be yours to share as you pore over the designs and then colour in your own works of art. Just like the artisans of old who travelled the Silk Road, you can bring your own flair and artistry to these pages, making this book a personal discovery, too.
"I hope that this publication may act as both a gateway to a broader understanding of these stunning accomplishments, and as a tribute to the history and cultural legacy of all the peoples, past and present, which make up our country, Uzbekistan." (Lola Karimova-Tillyaeva)